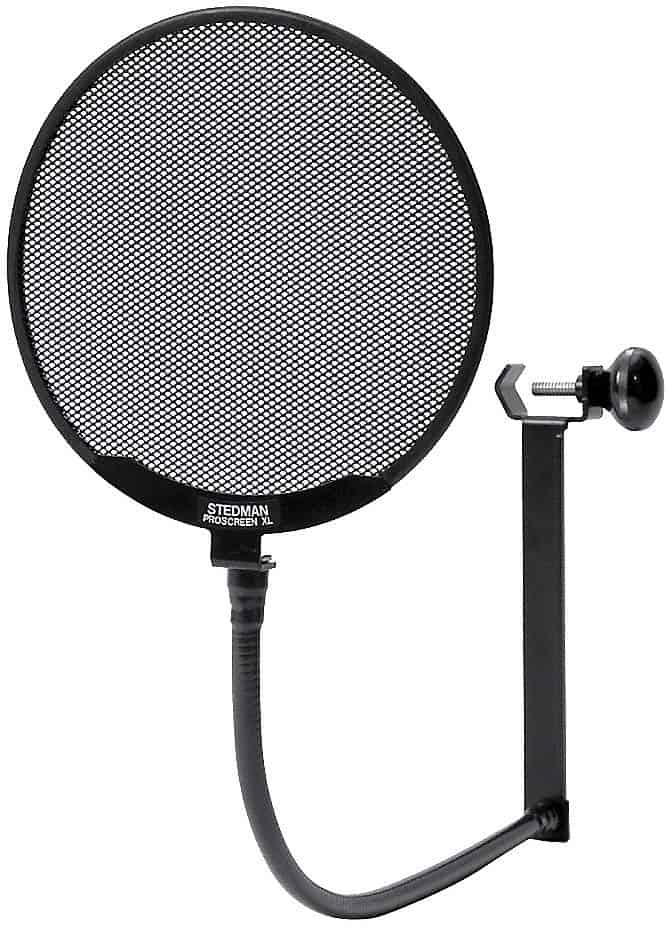 Stedman ProScreen XL Pop Filter
The first time I went shopping for a pop filter, I bought the cheapest one I could find.
I wanted to find out if a more expensive pop filter was really worth it. So I went to the store and bought a cheap $12 model and a slightly more expensive $60 model.
The Stedman Proscreen XL is my number one recommendation. If you are working with a smaller budget, check out this article I wrote about the best pop filters for any budget.
I wrote an article called Metal vs Nylon Fabric Pop Filters that shows the differences that I found.
If you are on a strict budget and need to remove p-pops, or plosives, from your microphone, just about any pop filter will do. Visit this article for a low-budget pop filter.
But if you want to invest in a pop filter that is easy to use and will last a long time, you should consider the Stedman ProScreen XL.
Why Spend More on a Pop Filter?
The truth is: no matter which pop filter you buy, it will get the job done. The most significant benefits of a more expensive pop filter are less about sound quality and more about usability and longevity.
If you are working on a minimal budget, I don't recommend investing your money here. Instead, go with this very inexpensive GOMILE pop filter. It will cost you less than $10, and you will greatly reduce the problem of p-pops.
If you want something that will last, invest a little more money and go with the Stedman ProScreen XL. These stands will be much easier to use and maintain.
The Hardware is the Biggest Improvement
One of the biggest problems with a cheap pop filter is the hardware. I have found that it's more difficult to get a cheap pop filter to stay in place because the gooseneck or clamp are low quality. I've spent too much time trying to get my cheap pop filter to stay where it should be.
This is why you should invest the extra money if you can. The improvement in hardware quality will save you time and embarrassment in front of clients. 
The Clamp
Most cheap pop filters will be sold with a loose, poorly-engineered clamp. The Stedman ProScreen XL comes with a high-quality clamp that tightly attaches to a variety of stands.
The Gooseneck
The Stedman ProScreen XL gooseneck is very flexible and strong. Whereas a cheap gooseneck will not stay in place in certain angles, the Stedman gooseneck is much more versitile.
Easy Maintenance
Your pop filter will not only protect microphones from gusts of air, but also from saliva. For this reason, the metal design of the Stedman ProScreen XL is preferred. You simply wash it off with water.
Build Quality
You know that feeling of holding a well-made device? You get that feeling when you hold a Stedman ProScreen XL. The high-precision threaded nuts and bolts they use are manufactured with very small tolerance for error. This results in a smooth experience that continues throughout the lifetime of the stand. 
Where Can You Buy a Stedman Proscreen XL Pop Filter?
I bought this pop filter at Guitar Center, but it's cheaper on Amazon. If you have the time to wait for 2-day shipping, you'll save yourself some money. 
Check out the price and reviews on Amazon here.
Full disclosure: The links on this page are affiliate links. That means that if you click on them and purchase the item, I will receive a small commission. Don't worry – it doesn't add any cost to you.