In this post, I'll help you find which pop filter is right for you – no matter what budget you're working with. 
I'll tell you what to consider when choosing a pop filter and demonstrate a couple of pop filters that I recommend from different price ranges so that you can hear the differences for yourself.
Why to Use Pop Filter
Every pop filter works toward a common goal – to prevent the noises caused by plosives.
Plosives are consonant sounds in human speech that result in a small gust of air. If the gust of air reaches the microphone, it could leave you with a noisy recording that is nearly impossible to repair.
All three pop filters that I'll show you in this video accomplish the primary goal of reducing plosive noises.
You can hear an audio comparison of each pop filter in the video at the top of this page.
What Makes a Good Pop Filter
The pop filter you choose should at the very least protect your microphone from plosives. 
However, that isn't the only important characteristic of a good pop filter. You should also consider the quality of the clamp and gooseneck, as well as the benefits of metal vs nylon pop filters.
Best Pop Filters ($70, $25, $10)
I've bought and tested several pop filters over the years. Here are my recommendations for the best pop filters in the $70, $25, and $10 ranges.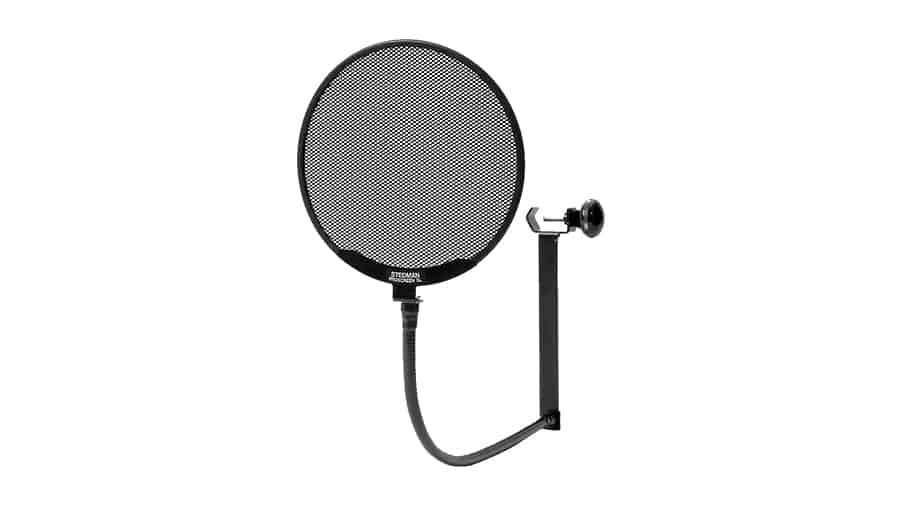 Stedman Proscreen XL Pop Filter – $70
At $70, the Stedman Proscreen XL is the most expensive pop filter in this video.
If $70 is within your budget, there are a few benefits of investing the extra money.
To learn more, read this article I wrote about the Stedman Proscreen XL.
Sonic Transparency
Generally speaking, higher-quality pop filters offer a more transparent sound. Lower-quality pop filters might subtly reduce (or attenuate) high frequencies, resulting in a slightly duller recording. You can hear a side-by-side comparison in the video at the top of this page.
High-Quality Hardware
The most important part for me is the quality of the hardware and gooseneck. Some pop filters are difficult to place on the microphone because they have cheap clamps and goosenecks. 
The Stedman Proscreen XL has amazing build quality in comparison to the lower-priced options in this post.
It's flexible and stays in place, making it easy to find correct placement on the microphone.
Visibility
You can see much better through metal pop filters than through nylon pop filters.
This makes reading a script, lyrics, or a sheet of music much easier and also looks better on camera.
Durability
Being a metal pop filter, it's more durable and easier to clean. There is no risk of this filter tearing like a nylon filter might.
Plus, pop filters acquire saliva, potentially causing an odor over time. Metal pop filters like this can be cleaned with a simple rinse.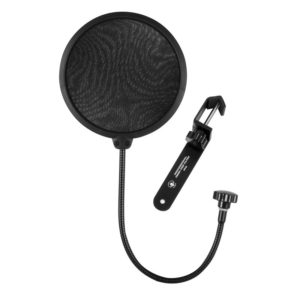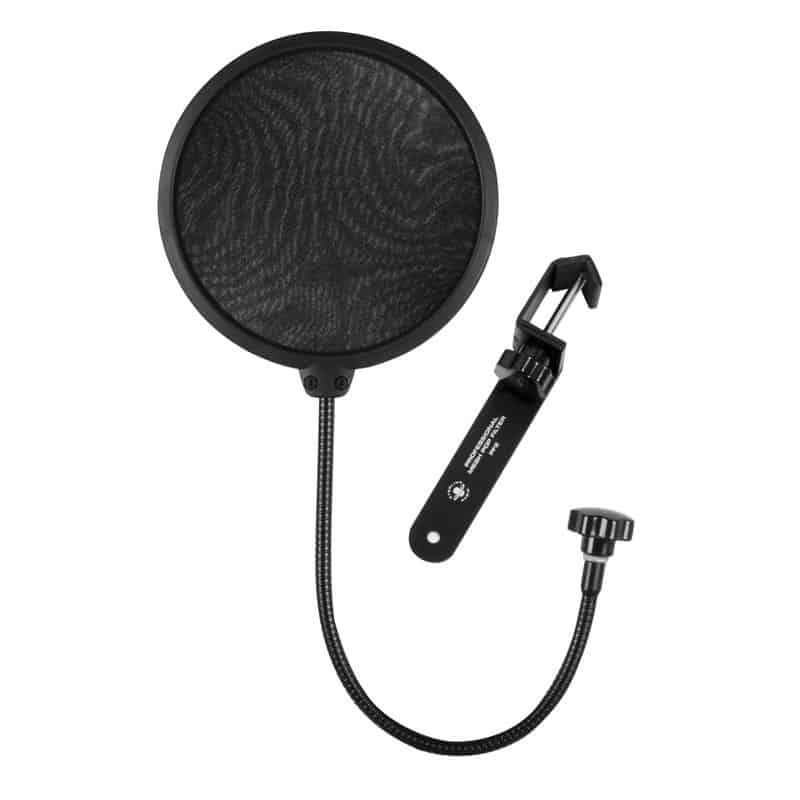 Sterling Audio STPF2 Pop Filter – $25
If your budget is closer to $25, I recommend the Sterling Audio STPF2.
The most important benefit of this pop filter is that it has a reliable gooseneck, compared to some of the other options in the $25 range. You can easily place the pop filter where you need it and it stays in place.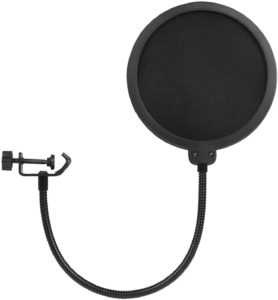 GOMILE Pop Filter – $10
The last pop filter on the list is this GOMILE Pop Filter that I found on Amazon for $8.
I've had bad luck with a few pop filters in the $10 range, but I found this one for $8.
The gooseneck isn't that bad for the price, but the lower-quality clamp is a different design than the other two options. 
The clamp doesn't stay in place very well and is annoying to set up on the microphone. The $8 design puts a lot of pressure at the point where the gooseneck connects to the clamp, which tends to come loose and slip. 
Which Pop Filter Should You Buy?
My recommendation is to be smart about your budget. If you are on a tight budget, an inexpensive pop filter will do. 
No matter which one of these pop filters you choose, you'll have a tool that will reduce plosives and help you to create professional-quality recordings.
If you have it in your budget, the Stedman Proscreen XL is worth the investment because of its transparent sound, exceptional build quality, and durability. It will withstand frequent use much better than the other options.
The Sterling STPF2 is half the price and still offers a high-quality gooseneck. This is my recommendation if you're working within a smaller budget.
The $10 pop filters you find on Amazon will accomplish the main goal of preventing noise from plosives, but they are a bit more difficult to set up and less reliable.