When someone asks me which audio interface is best for beginners, I almost always recommend one of the Focusrite Scarlett interfaces. But which Focusrite Scarlett interface is right for you?
Focusrite Scarlett Solo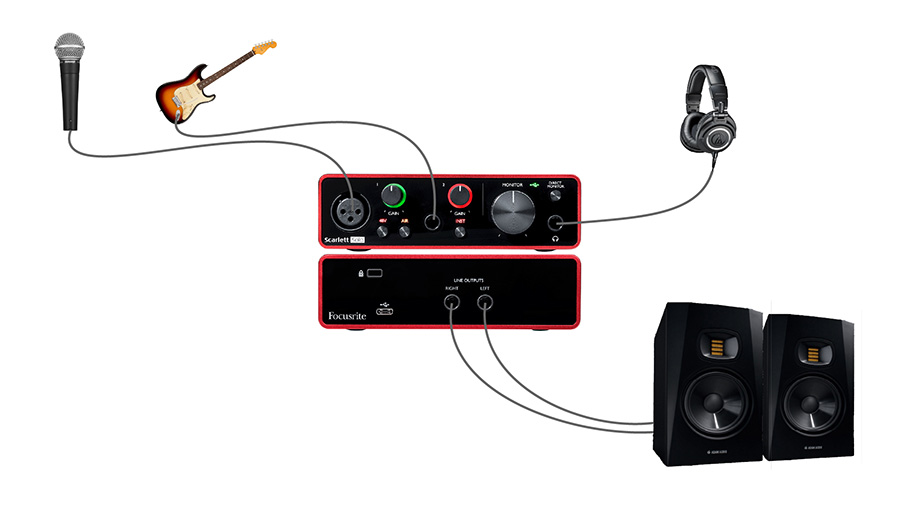 Overview
If you're just getting started and this truly is your first audio interface, you might consider the Focusrite Scarlett Solo.
With one microphone input and one instrument input, you can record your voice with a microphone and connect an electric guitar or acoustic-electric guitar directly while monitoring through headphones. On the back panel, you'll find two line outputs that can be connected to powered studio monitors.
Limitations
Although the Focusrite Scarlett Solo might be perfect for you right now – you may quickly outgrow this interface due to the fact that it only has one microphone input.
I started out with something similar to this, myself. But then I wanted to try recording with two microphones. Back then, I thought I could simply use an XLR to ¼-inch adapter to connect a second microphone to the ¼-inch input – but it doesn't work like that. In order to record a microphone properly, you need a microphone preamp. And the only mic preamp built into this interface is in input one. 
You'll also notice that there is only one knob for controlling the volume level of the headphones and the line outputs. This means that the only way to mute your studio monitors while listening through headphones without an additional mixer would be to unplug them from the back, which is very inconvenient. That's a big problem when recording, because whatever plays through the studio monitors will be picked up by your microphone which will ruin your recording and may even cause a feedback loop.
So, if you plan to connect studio monitors or record two microphones at the same time, I'd strongly recommend considering the next interface – the Focusrite Scarlett 2i2.
Focusrite Scarlett 2i2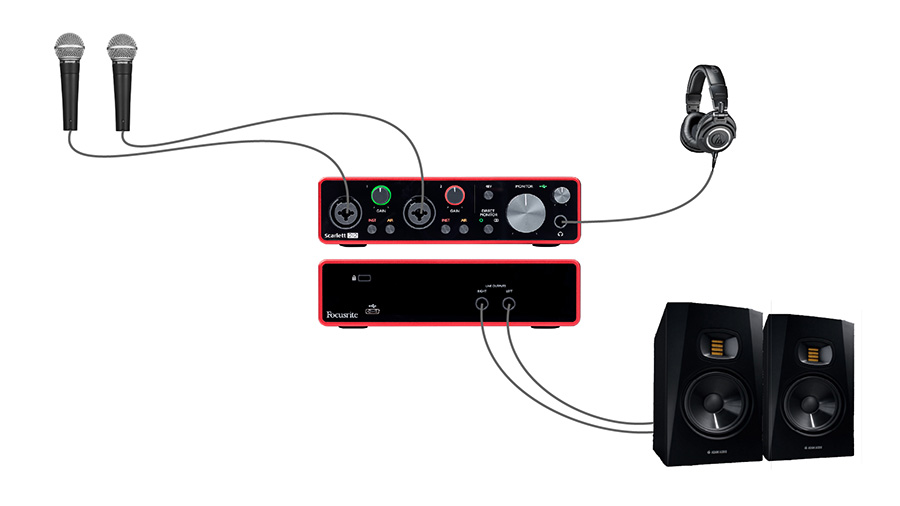 Overview
The Focusrite Scarlett 2i2 includes two combo inputs, which can record either a microphone, an instrument, or a line level source such as the output of a mixer.
This interface also has a headphone output on the front and two line outputs on the back, but the 2i2 gives you a separate volume knob for each of these outputs.
This is the interface that I used for years, as it covers most of the basic functions that a solo musician needs. You can record a microphone and an instrument, two microphones, and even make stereo recordings.
Limitations
Eventually, I started to run into some limitations with only having two inputs and two outputs. First, I wished that I could record more than two inputs at once. Then I found myself wanting to integrate outboard effects and route audio to additional outputs without disconnecting my studio monitors.
The 2i2 lasted me a long time, but you may also outgrow it once you start to expand your studio and use your interface for purposes other than creating simple recordings.
Focusrite Scarlett 4i4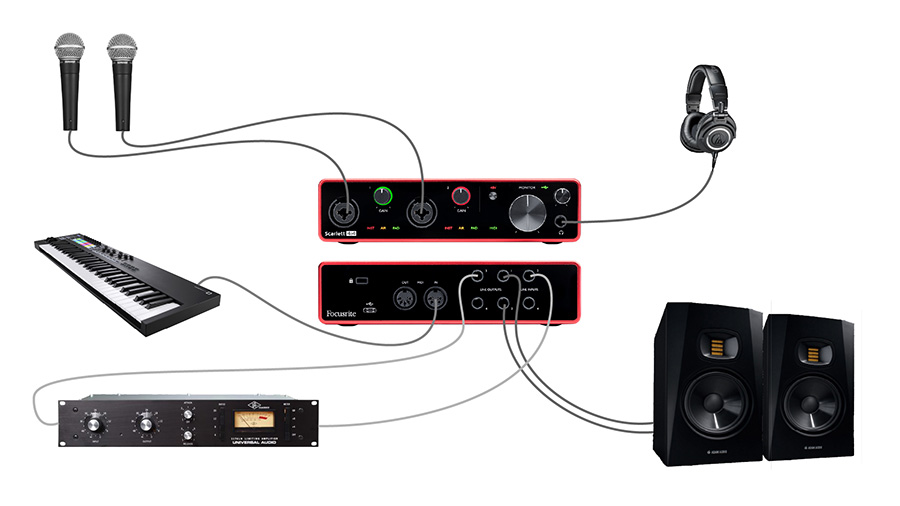 Overview
The Focusrite Scarlett 4i4 adds a bit of functionality. You've still got the same combo inputs on the front, as well as the headphone output and the two line outputs for monitors (each with their own volume knob).
However, the 4i4 adds an additional pair of line inputs and an additional pair of line outputs. These open the door to setting up insert sends and returns where you send audio out of the interface through a line output, through an outboard processor, and back into the interface through a line input.
With a second pair of outputs, you can connect an alternate pair of studio monitors or send audio to any other destination while keeping your main studio monitors connected. The extra inputs can be used for recording two additional line level sources, such as the mix coming from a separate mixer, while simultaneously using the two combo inputs on the front of the interface for recording microphones.
If you use MIDI, the DIN connections on the back of the 4i4 may be useful. I used a USB MIDI controller with my Focusrite 2i2, so the lack of MIDI connections on my interface wasn't a big problem. But it's definitely worth considering.
When you get to the 4i4 and above, you'll start seeing more routing options within the included Focusrite Control software. This software allows you to customize what plays through each output of the interface and even allows you to loop audio from various applications back into the interface.
Limitations
There are two built-in preamps just like there are on the 2i2, but the additional line level inputs on the 4i4 aren't equipped to connect microphones directly. If you want the ability to record more than two microphones, you would still need external microphone preamps to use with the 4i4. 
While external mic preamps are a fun way to expand your studio, you'd probably save some money by upgrading to a larger interface rather than using the 4i4 with two external preamps. 
Focusrite Scarlett 8i6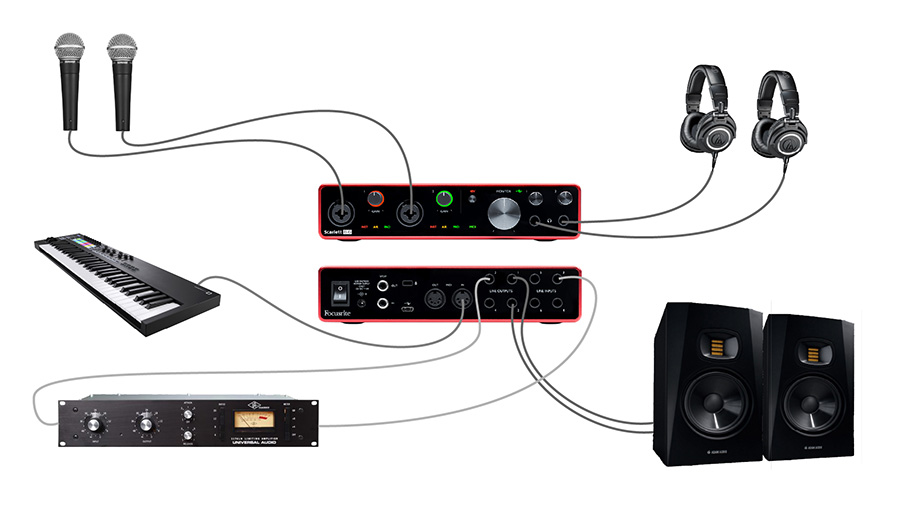 Overview
Up to this point, all of the interfaces have been bus powered, meaning they receive their power from the USB port on your computer. The interfaces from this point on require an included external power supply.
The Focusrite Scarlett 8i6 takes the features of the 4i4 and adds a few more ins and outs. My favorite benefit of the 8i6 is the additional headphone amplifier, which would allow for two separate headphone mixes using the Focusrite Control software – a mix for you and a mix for the performer perhaps.
You'll also find an additional pair of line inputs, bringing the total analog input count to 6 – two combo jacks on the front and four line inputs on the back. This is useful for inserts and auxiliary sends as I mentioned when describing the 4i4. The 8i6 interface also has MIDI connections, just like the 4i4.
Finally, the Scarlett 8i6 introduces digital SPDIF inputs and outputs. These coaxial jacks on the back allow for an additional two channels in and two channels out of your interface. These are digital connections, so you'll need to use them with a preamp, mixer, or another device with SPDIF.
Limitations
Although these additional channels of input and output are useful for using hardware and other audio devices, they still don't allow you to connect more than two microphones directly.
Just like the 4i4, you'd need an external mic preamp with analog outputs or SPDIF outputs in order to record more microphones. And that's where the next interface comes in.
Focusrite Scarlett 18i8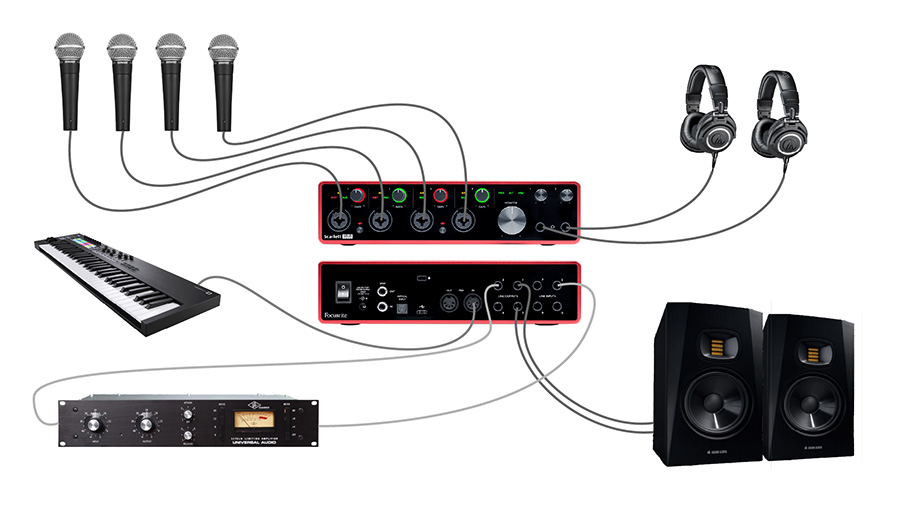 Overview
The Focusrite Scarlett 18i8 is where you gain the ability to connect more microphones directly. The first two combo jacks on the front are for either microphones, instruments, or line level sources while the third and fourth combo jacks can accept microphone or line inputs. That means you could record four mics at the same time right out of the box!
And it doesn't stop there. On the back, you've got the SPDIF input and output for two additional channels in and out as well as optical ADAT.
I made a full video on how to use ADAT, so I'd recommend watching that if you're interested. But just know that when paired with an 8 channel ADAT-enabled mic preamp like the Focusrite OctoPre, this interface is capable of recording 12 mics at the same time! 
If you're looking for an interface that can record a full band by layering, this is a great option. You could record the drum kit with 4 mics. Then you could layer guitar and bass, then add vocals. You'll also have MIDI connections and two headphone outputs just like on the 8i6.
Limitations
This interface is highly expandable, so it's a good choice if you want something that will grow with you. 
However, if you plan to record a full live band on day one, four mic preamps might still be limiting. You could add the Focusrite OctoPre that I mentioned earlier and get 12 mic preamps, but that is going to cost you a lot more than the next interface – the Focusrite Scarlett 18i20.
Focusrite Scarlett 18i20
Overview
The Focusrite Scarlett 18i20 is the interface that I'd recommend to drummers and bands who want to record up to 8 channels at a time.
This interface has 8 mic preamp built-in. Plus, it's got 10 line outputs, 2 headphone outputs, SPDIF and ADAT! This is enough IO for a lot of growth in your studio. If you paired this interface with a Focusrite OctoPre, you could record up to 16 microphones simultaneously, which is perfect for recording a live band!
You still get the MIDI input and output, plus a word clock output for synchronizing with other digital devices.
In my opinion, the price tag on this interface is well worth the investment for anyone who is interested in multitrack recording. In fact, I'm impressed with how much you actually get for that price.
Limitations
It's difficult to think of any limitations that you'd encounter with this interface unless you're recording a huge band. There is plenty of room for expansion with outboard gear and patchbays, too.
The next step up would just be to upgrade the quality of the preamps and performance with something like the Focusrite Clarett.