König & Meyer Microphone Stands
I've been burned too many times by cheap microphone stands. I want to save you the trouble that I've gone through by introducing you to the one microphone stand brand used by every sound company I've ever worked with: K&M
Invest in Quality from the Beginning
When I was in high school, I bought my first microphone stand. I went with the cheapest one I could find. It didn't seem much different from the more expensive options in the store, and I didn't have the budget for unnecessary luxuries. 
Over the first few months, the stand worked pretty well. After awhile, however, the boom arm started to slip. I would set the mic as I needed it, but the second I took my hands away, it would slowly start to drop toward the floor. 
Each time I used it, I would tighten it tighter and tighter. Although, this seemed to make the problem worse. I exhausted my teenage ingenuity and my dad's collection of duct tape trying to fix the stand, but it was all for naught. After only a few months, it was already time to buy a new stand.
So I bought another stand. Again, I bought a cheap option for around $30. I did this again and again. Whether it was the boom stand problem described above, stripped bolts, or loose parts, the stands kept failing and I kept replacing them. Over the course of a few years, I had spent well over $100. In hindsight, I could've saved money by investing in a high-quality stand from the beginning.
Are Cheap Microphone Stands Worth the Trouble?
If you're having these problems, you may be able to fix your stand. I wrote an article about how to fix a microphone stand. The article goes through all of the common microphone stand failures, how to fix them, and how to prevent them with good maintenance.
However, it might be time to invest in something that won't keep failing on you. Even if you fix your stand, there is still a good chance it will fail again. If a stand fails in the middle of a performance, you run the risk of missing the perfect take or leaving a negative impression on your clients. For these reasons, the only microphone stand brand I'll ever use again is K&M.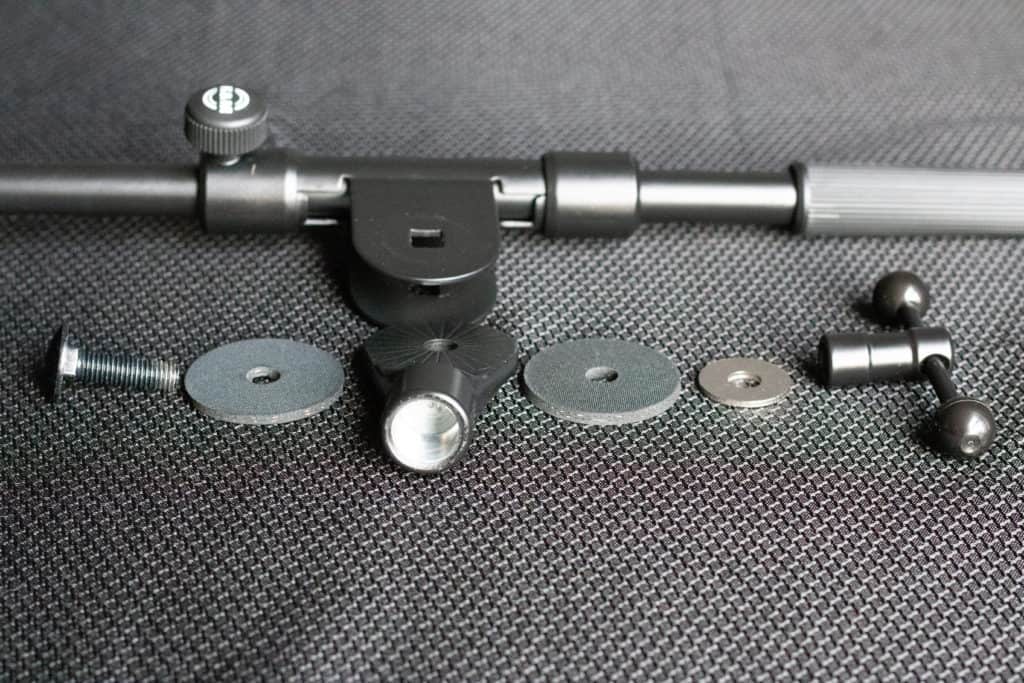 König & Meyer is the Industry Standard
Years after buying that first cheap mic stand, I started to do work for live sound companies. I noticed a pattern: every local sound company and every touring sound company used the same K&M mic stands. Every show, these stands were abused, knocked over, rained on, and thrown into cases for the next gig. But night after night, they continued to work.
K&M is truly the most trusted manufacturer of microphone stands and has become an industry standard. If you buy one K&M stand for about $60, it will be with you for years and you'll end up saving money in the long run.
Telescoping Boom
The telescoping boom version of the K&M boom stand is one of my favorite features. It adds so much versatility. Sometimes there is limited space on stage. When you're mic'ing a drum kit, percussion, or vocalists, this feature can be very useful. The telescoping boom is available on a tall stand and a short stand.
Build Quality
You know that feeling of holding a well-made device? You get that feeling when you hold a K&M stand. The high-precision metal tubes they use are manufactured with very small tolerance for error. This results in a smooth experience that continues throughout the lifetime of the stand. 
5-Year Warranty
König & Meyer includes a 5-year warranty with all of their products. If anything should fail within that time (although unlikely), your product is guaranteed. In addition to this, you also receive a 10-year warranty for parts. Should any bolts or nuts fail, you won't have to replace the whole stand.
Reliability
Warranties are great, but the truth of the matter is that a failure is a failure. If your stand fails in the middle of a show or a recording, that error is irreversible. If you are running a professional operation, it's essential that these errors are avoided by using equipment that can be trusted.
Where Can You Buy a K&M Stand?
Many stores don't offer these stands. I couldn't find one at my local Guitar Center. You can buy K&M microphone stands on Amazon. They are right around $60-$70 as I write this article, depending on which version you choose.
If you click any of the links on this page, I will receive a small commission. It won't cost you any more to buy it through these links. I am not writing this article to simply make money, however. We all aim to offer value in order to make a living, and I truly stand behind what I've recommended in this article and everything I recommend on this website.
My K&M stands have endured the test of time, and I expect they will last for years to come. Save yourself the trouble and the money. Invest in a stand that won't let you down.