For years, the Focusrite Scarlett 2i2 has been one of the best options for most people looking for an audio interface under $200.
While the 2i2 does provide a lot of value for the money, it may not be right for everyone.
In this post, I'll show you what this interface is capable of and along the way I'll share some tips to help you decide if it's the right interface for you.
Is The Focusrite Scarlett 2i2 Right For You?
I do think the Focusrite Scarlett 2i2 is a great fit for most people and here's why:
It's relatively inexpensive, it's reliable, and it's extremely simple to set up. It also has two microphone inputs, a headphone jack, and two line outputs, which covers the vast majority of use cases.
That said, I believe some people would benefit from the Focusrite Scarlett 4i4 or the Focusrite Scarlett 18i8 and some might even benefit from an interface with more inputs, like the Focusrite Scarlett 18i20 or Behringer UMC1820.
If you're on the fence, allow me to run through a couple of common scenarios where the Focusrite Scarlett 2i2 shines. At the end, you can decide for yourself.
The Solo Musician
If you are a solo musician who plans to record one or two instruments at a time, the 2i2 is probably perfect for you.
When I say "record one or two instruments at a time", That's not to say you can't create songs with more than two instruments – you can layer as many instruments as you want.
For example, you could record an acoustic guitar with one microphone and sing into a vocal microphone simultaneously. The guitar and vocal would even be recorded to separate tracks in your DAW software, allowing you to control the level and FX independently!
You could then go back and record electric guitar overdubs on top of that, either by recording your amplifier or connecting your guitar directly into the interface and using the amp modeling software that comes bundled with the Scarlett interface (Softube Marshall Silver Jubilee 2555).
These two inputs on the front of the interface allow you to connect pretty much anything that has XLR or ¼" outputs – whether that's a bass guitar, a keyboard, or whatever else.
One thing you cannot connect is a MIDI keyboard with a 5-pin DIN MIDI connection. If you need MIDI inputs and outputs, you might consider the Focusrite Scarlett 4i4. Personally, I use a USB MIDI keyboard, so it's not an issue for me. I just connect my MIDI keyboard to my computer directly.
If you're trying to record a drum kit or a live band, you might run into some limitations with only two inputs. It's certainly possible to record a drum kit with only one or two microphones – in fact, I've got a full post on that, specifically: Recording Drums With Limited Microphones
But, if you can fit it into your budget, the Focusrite Scarlett 18i20 or the Behringer UMC1820 are probably the better options, because they give you the ability to record 8 inputs simultaneously.
The Mixing Engineer
The Focusrite 2i2 also covers the basic needs for mixing music "in-the-box" using the plugins and FX within your DAW.
You can mix using headphones or a pair of powered studio monitors. So, whether you're layering and mixing your own music or mixing pre-recorded tracks, the outputs built into the Scarlett 2i2 will most likely be sufficient.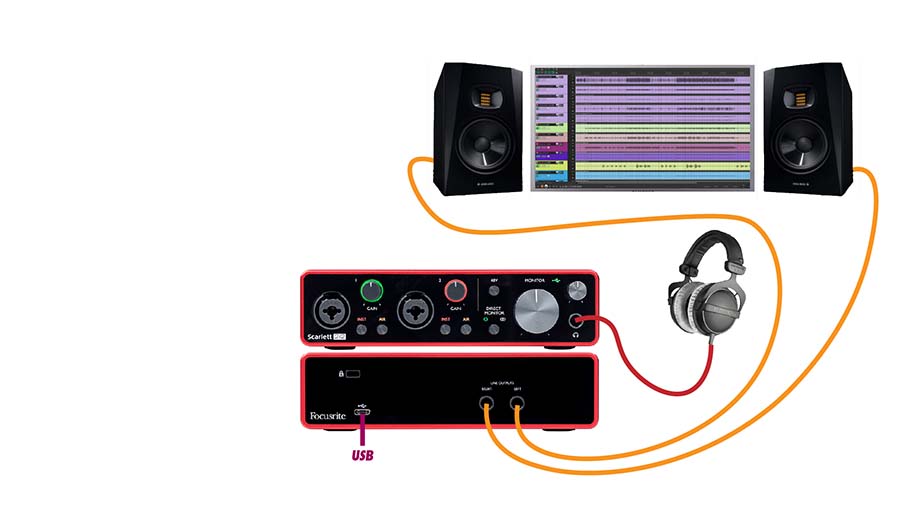 If you have the need to use outboard FX like compressors or reverb, you'll want some extra outputs. For example, the Scarlett 4i4 gives you two additional outputs that could be used to run signal out of your computer, through your outboard FX processors, and back in through one of the inputs.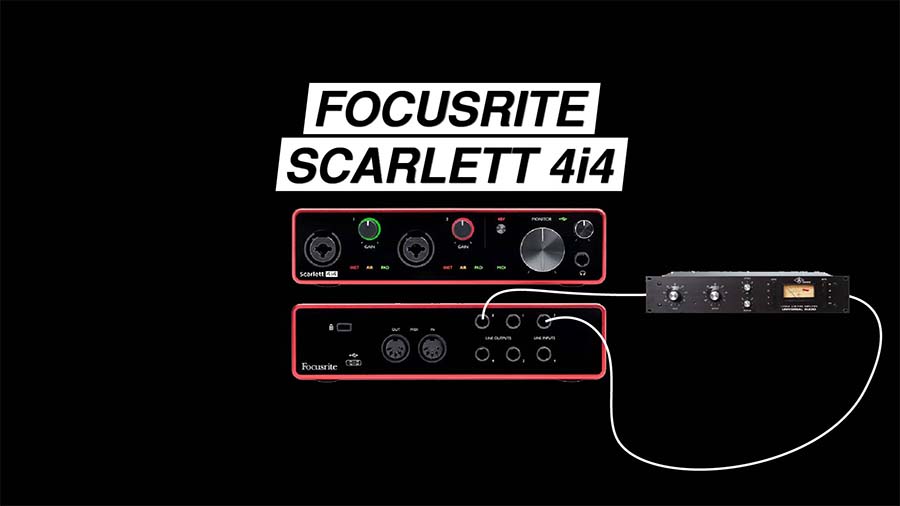 An interface with extra outputs could also be useful for switching between multiple pairs of studio monitors or for mixing surround for film. Again, the vast majority of people will be happy with just two outputs, but these are things you'll want to consider.
The Streamer / Podcaster
If you'll primarily be using the interface for streaming or podcasting, you just need to ask yourself how many microphones you'll need to connect. Aside from that, you might consider how many headphone outputs the interface has.
If it's just one mic for you (or one for you and one for a guest), the Scarlett 2i2 is a great option.
Of course, if you need more than two microphones, you'll want to upgrade to something with more mic inputs. Just be sure to choose an interface with at least one microphone input for every microphone you plan to record.
Virtually every USB interface on the market is compatible with streaming and teleconferencing platforms, and they are very easy to set up. You'll just connect the interface to your computer and select it as the microphone and speaker device within the app that you're using.
Why Choose A Focusrite Scarlett Interface?
One of the best things about the Focusrite Scarlett interfaces is that they are very simple to set up. Right inside the box, you'll find a link to an interactive setup guide on the Focusrite website.
The guide will walk you through the process of getting your interface up and running for the first time. The whole process only takes a few minutes.
It might seem like this video is sponsored by Focusrite, but it's not – trust me, I wish it was… but it's not.
I've just used the 2i2 for a long time and I know it's a reliable interface that is relatively inexpensive. If you're looking for reassurance, I'm here to tell you that it's a good buy, especially if you fit into one of the categories I've described here.